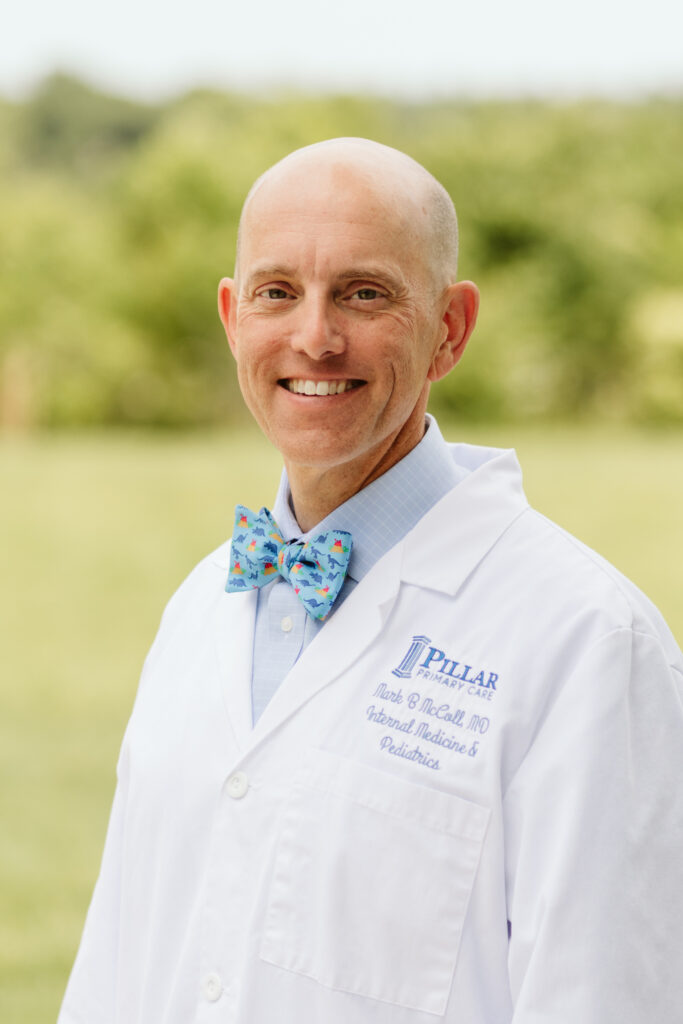 Dr. Mark B McColl is an East Tennessee native having grown up in west Knoxville and working his way through the Farragut school system.  At the end of the first semester at the University of Tennessee, God clearly called him into medicine.  Like so many of God's plans, the path to that goal was not immediately clear.  During his college years Dr. McColl developed a deep love for the study and application of Scripture.  During his senior year he served on the leadership team with the Presbyterian campus ministry known as Reformed University Fellowship (RUF).  After undergraduate school, God gave him the opportunity to formally study theology and Scripture at Covenant Theological Seminary in St. Louis, Missouri earning a Masters of Arts in General Theological Studies.
Afterwards, Dr. McColl attended the University of Tennessee Health Sciences School College of Medicine in Memphis, Tennessee.  He served a four year position on the student honor council and participated in Christian Medical and Dental Association (CMDA) meetings, teaching, and in leadership.  It was during medical school that Dr. McColl first worked with the physicians at Trinity Medical Associates.  He credits Dr. Bruce Allsop for inspiring him to return to Trinity to start his private practice career in 2006.
"Dr. Allsop was the only physician in all of medical school who admitted he would still become a physician if given the chance again.  All the other physicians I asked said they wouldn't do it.  It wasn't worth it.  Dr. Allsop said, 'I'd have to.'  Dr. Allsop, like me, has a calling from God.  We are made to do what we do.  From that point on, I knew I had to come back and work at Trinity."
After medical school, Dr. McColl moved to Lexington, Kentucky for residency in the combined Internal Medicine & Pediatrics program at the University of Kentucky Medical Center hospital.  His final year he received the Department of Internal Medicine Program Director's Award for senior resident of the year.
After graduation from residency in 2006, Dr. McColl and his wife, Daphne, a pediatrician turned elementary school teacher, moved back to their home town of Knoxville to raise their children with their extended family.  He enjoys outdoor activities of all sorts such as hiking, backpacking, kayaking, and camping.  He is a member of Cedar Springs Presbyterian Church.
Dr. McColl is board certified in Internal Medicine and Pediatrics by the American Board of Internal Medicine, the American Board of Pediatrics, and the National Board of Physicians and Surgeons.  He continues to be a member of the Christian Medical and Dental Association.  Professionally, he belongs to the Direct Primary Care Alliance, , the Association of American Physicians and Surgeons (AAPS), the American College of Physicians (ACP), the American Association of Pediatricians (AAP), and the National Lipid Association (NLA) when he remembers to pay his membership dues, that is.
Dr. McColl has special interests in well baby care, preventative health, nutritional counseling, metabolic disorders, diabetes, insulin resistance, vaccine preventable diseases, and cardiovascular disorders.  He advocates for a real food, whole food approach to nutrition emphasizing low carbohydrate, high fat options and attempts to follow that himself when not led astray by Little Joe's pizza.
In 2012, he began to formulate the idea of developing a direct primary care practice and spent the next three years researching and building a sustainable business model.  After finally launching this program in January 2016, his fellow partners allowed him to serve as President of Trinity Direct Primary Care, PLLC pioneering the DPC movement in Knoxville.
In 2019, Dr. McColl founded Pillar Primary Care, PLLC to continue the mission of Direct Primary Care for his patients and his community. With this change, he plans to expand the practice to many different communities around the region.
Dr. McColl's panel is currently full and he is not accepting new patients at this time. Patients may contact Dr. McColl at 865-244-1800 or email him directly at [email protected].